What is a Degree Works Plan of Study?
The Degree Works Plans is a tool used to help you create a plan of study to map out your degree requirements while at ECU. A Plan will help you graduate on time and on budget.
---
Resources
To view your plan:
Log in to PiratePort (ECU Pirate ID and Passphrase required)
Click the Degree Works card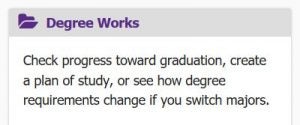 Click on Plans Tab to view your plan
---

Need Help?
For academic questions regarding your plan, please contact your advisor.
For functional questions regarding the plan, please contact DEGWRKS@ecu.edu.
Instructional Guides
Frequently Asked Questions (Video Shorts)